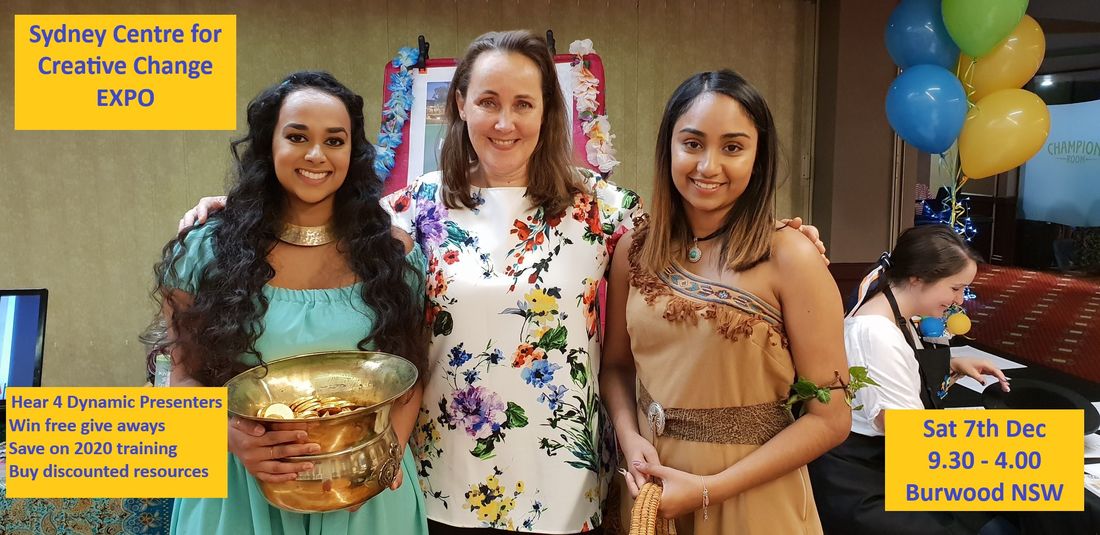 Sydney Centre for Creative Change Expo
The 2019 Sydney Centre for Creative Change Expo brings together a diverse range of workshop training and course information for psychologists, social workers, counsellors, other mental health and welfare clinicians, teachers, coaches, students and all those interested in creative arts and expressive therapies. There will be therapeutic card resources, books and sandplay miniatures for sale, free giveaways, therapeutic games and activities and more, all in one place!
You will gain unparalleled access to information about short courses in art, drama, sandplay, music, storytelling, and play therapies. Learn how you can intern with us, apply for a scholarship, enrol in our Certificate Course in Art and Play Therapy and attend our Women's Retreat. Our four inspirational and educational workshops presented over the day qualify you for 4 hours of PD all for $40. You can attend as many as you would like. Register now to attend this EXPO to be entertained, informed and involved in a range of free activities outside of the workshops.
Workshops
10.00 – 11.00am Therapeutic Games and Activity: Therapy comes Alive with Drama
Natalie McKenzie, Registered Dramatherapist
11.30 – 12.30pm Art of Healing: Working through Loss and Grief Creatively
Beate Steller, Social Worker, Adult Educator and Bereavement Specialist
1.00 - 2.00pm Something to Draw On: Art Therapy and Its Applications
Judy King, Registered Art Psychotherapist
2.30 - 3.30pm Sandplay Therapy: Embracing Projective Metaphor in Miniature
Jacki Short, Counselling Psychologist and Play Therapist
Where?
Burwood RSL Club, 97 Shaftesbury Rd Burwood (free onsite parking)
When?
Saturday 7th December, 2019
Time?
9.30am – 4.00pm
Cost?
$40